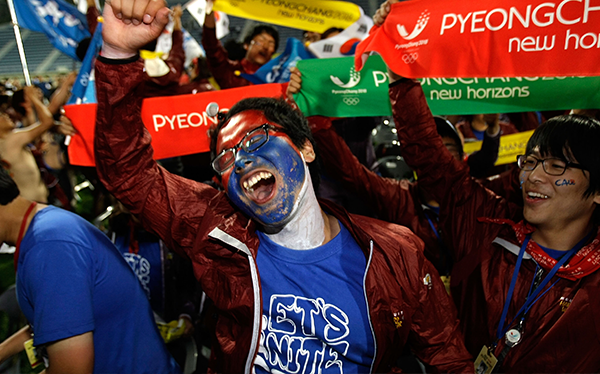 To help Australia get ready for the Pyeongchang 2018 Winter Olympic Games we have prepared a list of handy Korean phrases you may hear either in the stands, on the television or see on social media!
Saying hello
Annyeonghaseyo – Hello
Annyeong – Hello
Hwangyong-hamnida – Welcome
Eotteohke jinaeseyo? – How are you?
Mannaseo bangapseumnida – Pleased to meet you (formal)
Mannaseo bangawoyo – Pleased to meet you (informal)
Annyeong hashimnikka – Good morning/afternoon/evening
Saying goodbye
Annyeong - Goodbye
Annyeong-hi jumusipsio – Goodnight (formal)
Jal jja – Goodnight (informal)
Other useful phrases
Moreugesseumnida – I don't understand
Arasoyo – I understand
Hangukmal hasil jul aseyo? – Do you speak Korean (formal). Reply: ye, jogeumyo – yes, a little (formal)
Hangukmal hal jul ani? – Do you speak Korean (informal). Reply: eung, jogeum– yes, a little (informal)
Shillehagessumnida – Excuse me
Ige eolmayeyo? – How much is this?
Mian(hae) – Sorry
Butakamnida – Please
Komapsumnida – Thank you (formal)
Komawo – Thank you (informal)
Hwajangsiri eodiyeyo – Where is the toilet?
Paegopayo – I'm hungry
Geonbae – Cheers/good health (literal translation: dry glass)
Wihayeo – Toast used when drinking
General sport terms
Haeng un eul bil eo yo –Good luck (formal)
Haeng un eul bin da – Good luck (informal)
Shihab-i eodieyo? – Where is the game?
Specific sports
Aiseu haki – Ice hockey
Pigyeo seukeiting - Figure skating
Syoteuteulaeg seupideu seukeiting – Short track speed skating
Seupideu seukeiting – Speed skating 
Keolling – Curling 
Bobseullei – Bobsleigh
Seukelleton – Skeleton
Luji - Luge
Seuki – Skiing
Alpain seuki - Alpine skiing
Hwalgang – Downhill
Syupeodaehoejeon – Super G
Seullalom - Slalom
Geodaeham seullalom – Giant slalom
Gosan sigmul – Alpine combined
Seuki jeompeu – Ski jumping
Peuli seutail seuki – Freestyle skiing
Mongdung-I – Moguls 
Gongjungseon – Aerials 
Seuki seullopeuseutail – Ski slopestyle
Keuloseu Keonteuli seuki – Cross country skiing
Seuki keuloseu – Ski cross 
Baiaeseullon - Biathlon
Noleudig boghad - Nordic combined
Seunou bodeu – Snowboard
Pyeonghaengdaehoejeon – Parallel giant slalom
Seunou bodeu seullopeuseutail – Snowboard slopestyle
Big-eeo – Big air
Hapeupaipeu – Halfpipe 
Seunou bodeu keuloseu – Snowboard cross
Annyeong!
Sign up for fan newsletter
Related PyeongChang Snippets